We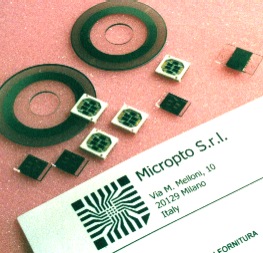 have summarized some disks and gratings for shaft and rotary optical encoders. Here you can find some standard models, however others are avilable on customer specifics and draw.

Standard glass disks

Pulses per rotation: ..., 600, 1'000, 1'024, 1'800, 2'000, 2'048, 2'500, 3'000, 3'600, 4'000, 4'096, 5'000, 9'000, 10'000, ...
External diameter: 42 mm and 27 mm.
Internal diameter: 12 mm (others available).
Thickness: 1 mm (others available on request).
Material: floatglass.
External benvel: 45°
Crome cover.


Standard glass Gratings (reticles)

Dimensions: 12.0 mm x 8.0 mm x 1.0 mm.
Material: floatglass.
Standard: linear or six windows like Siemens KOM2100B (MO-AFD06)

Special disks both in metal and glass, different absolute and incremental disks and gratings are available on customers requests. Micropto is available to design new disk.

Also available metal stripes and special code wheels.

Ask for availability and more information.