Microchips wire bonding
We offer this service for small or big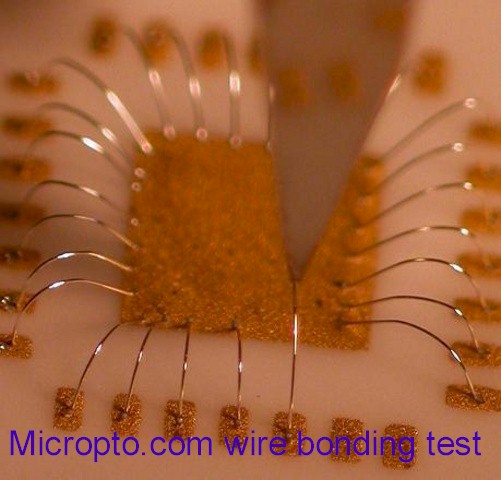 series.
Electrical conductive wire connections between microchips and dice with the support (PCB, ceramic, metal, glass, ...) thanks to 1 mils Al or Au wires or ribbons.
Several kind of dice (sensors, MEMS, memories, logics, ASIC, sun photvoltaic cells, MCU, photodiodes arrays, ...) are often assembled on packages or chip carriers in order to protect or give them a structure (lenses, heatsink, hybrids, ...) or some specific shape. Wire connections on electrodes allow to supply power or extract electrical signals from the dice or power them up. The picture shows the automaitc wire bonding test
Many kind of wires and and connections on customized or standard packages are available. Interesting the advantages on specific packages: reduced volumes and weight, small and compact dimension, specific shape, well oriented to the application and improved electrical or thermal performances, improved privacy protection of the devices. Design of new and innovative devices and green approcing to reduced wasting of narural resources.
More information: email
Micropto S.r.l.
Via G. Zanella, 57
20133 Milano (Italy)
---
| Products | Who we are | General conditions | FAQ | E.MAIL | Write us | How reach us | Catalogue & Download | News | Fairs | Career | Site map | Home |
IT - USA/UK - CN - JP

For technical information, contact: WebMaster and about the web site visit: information.
© 1999-2020 Micropto S.r.l. Codice fiscale e Partita Iva (V.A.T.): 12873450154. All right reseved.