High performance Emitter: VCSEL Dice (DVE03).
VCSEL Infrared 850 nm Emitter
Low Current
Very High Speed
ELECTRO-OPTICAL CHARACTERISTICS (T=25°C unless otherwise specified)
| | | | | | | |
| --- | --- | --- | --- | --- | --- | --- |
| PARAMETER | SYMBOL | UNITS | MIN. | TYP. | MAX | NOTE |
| Peak Wavelength | Lambda p | nm | | 850 | | |
| Threshold Current | Ith | mA | 8 | 9 | 12 | |
| Output Power at High Current | P1 | mW | 1,8 | 5 | | High Current Defined As I1=20mA |
| Slope Efficiency | D P1/D I | mW/mA | | 0,5 | | |
| Operating Voltage at Low Current | V0 | V | | | 2,8 | Low Current Defined As I0=9mA |
| Differential Resistance | d R | ohm | | 40 | 65 | |
| Reverse Bias Voltage | Vrev | V | 5 | | | |
| Total Beam Divergence | tetha | deg | | 20 | | |
ABSOLUTE MAXIMUM RATINGS (T=25°C unless otherwise stated)
| | |
| --- | --- |
| PARAMETER | RATING |
| Storage Temperature | -40 to +100°C |
| Operating Temperature | 0 to 70°C |
| Maximum Die Exposure | 325°C for 10 sec |
| Maximum Optical Output Power | 10 mW |
| Maximum Revers Bias Voltage | 5 V |
| Maximum continuous Operating Current | 20 mA |
| Maximum Instantaneous Operating Current | 25 mA |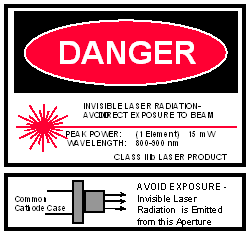 IMPORTANT NOTICE
Stresses beyond those listed under "Absolute Maximum Ratings" may cause permanent damage to the device. These are stress only, and functional operation of the device at these or any other conditions beyond those indicated for extended periods of time may effect device reliability.
WARNING: Semiconductor LASER Class 3B device. Avoid exposure, invisible LASER radiation is emitted
Micropto S.r.l. reserves the right to make changes in order to improve design and supply the best product possible.